Description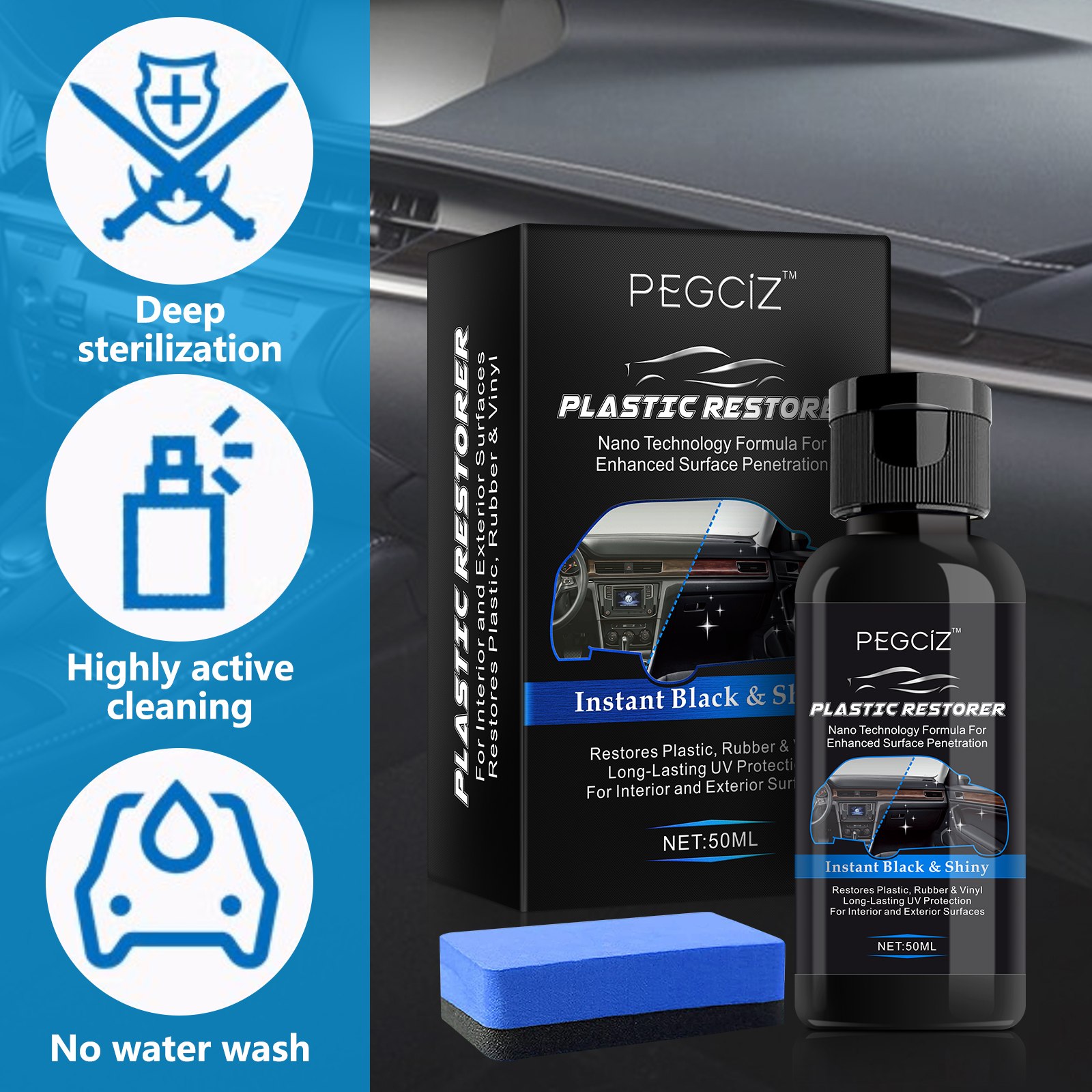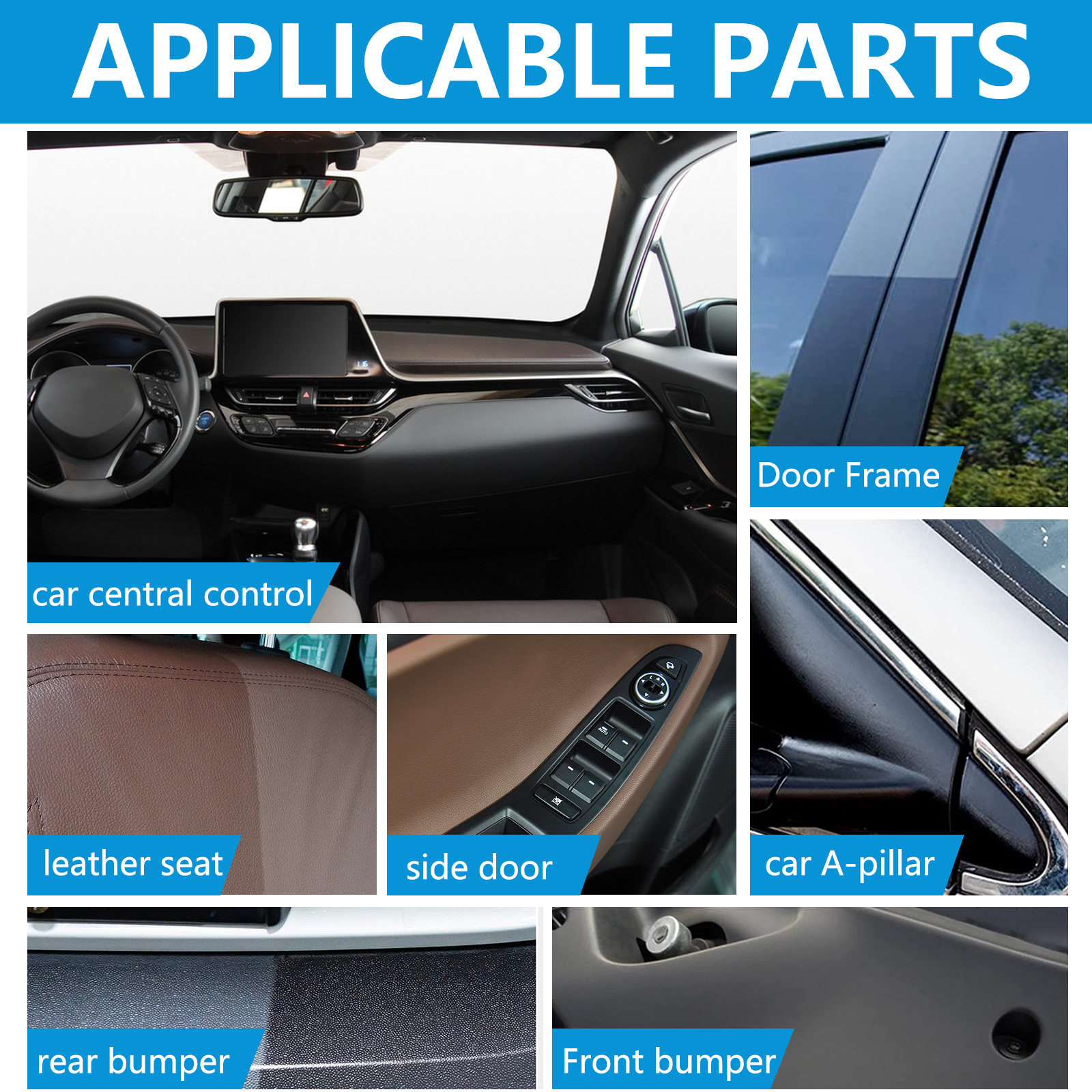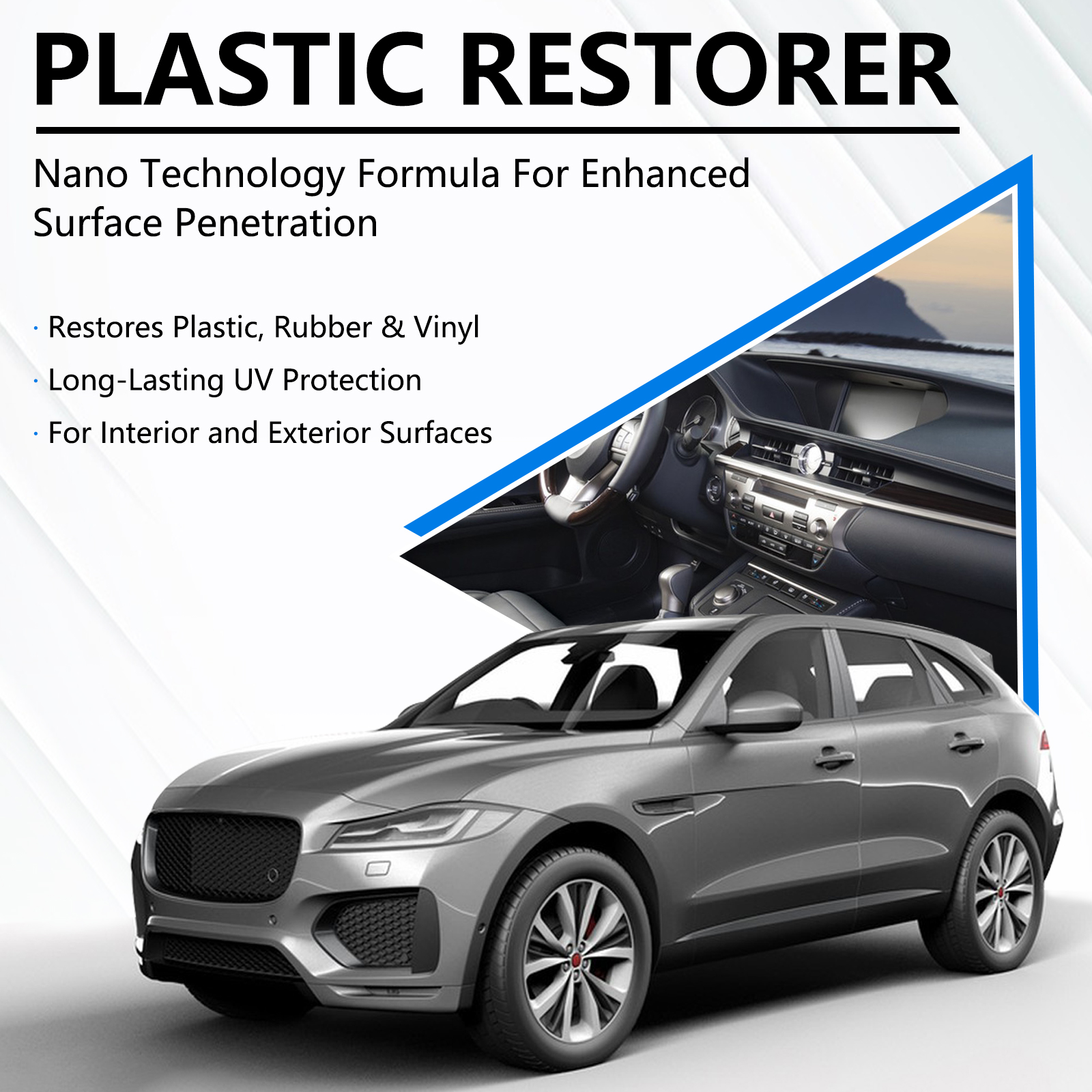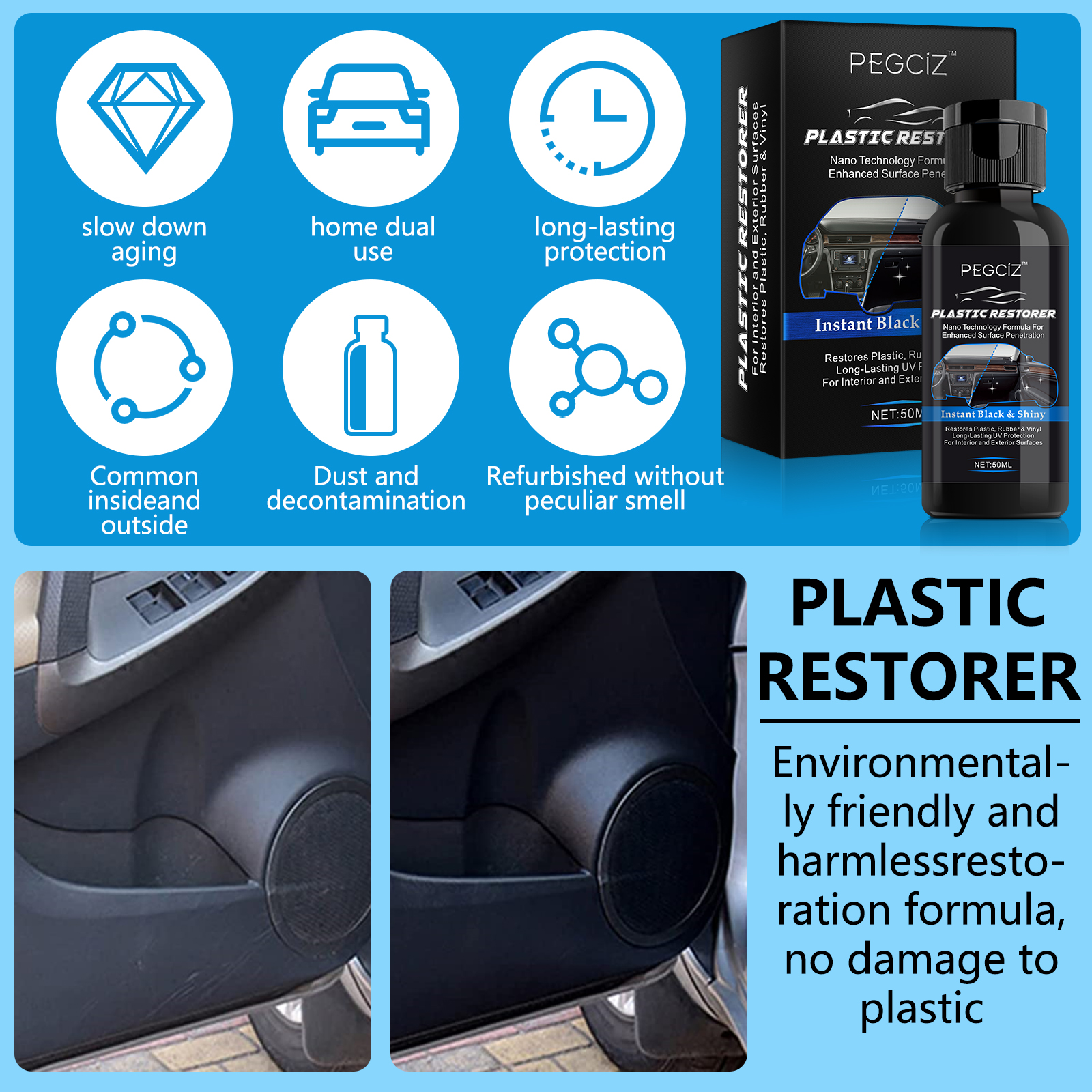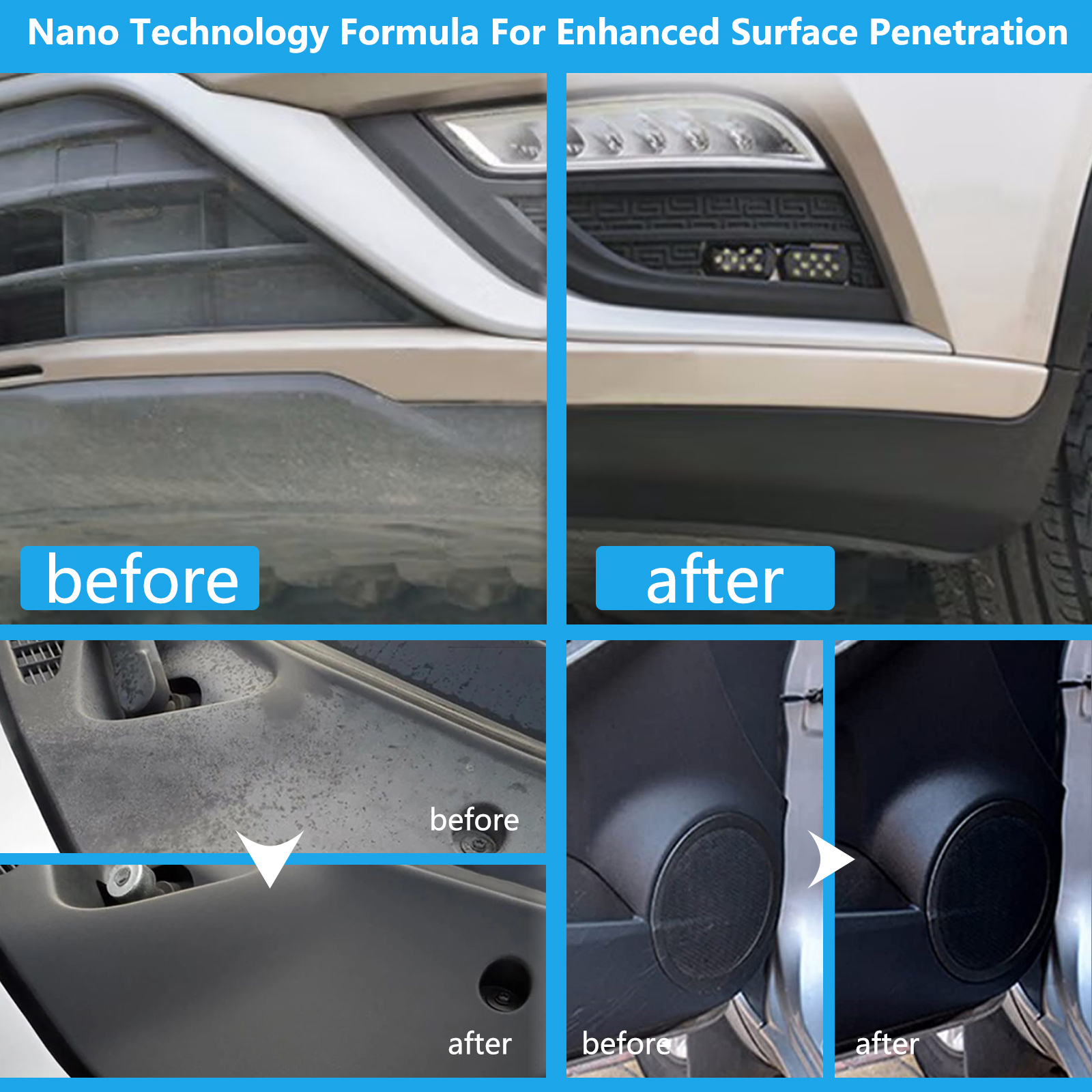 Revitalize Your Vehicle with our 50ML Plastic Refurbishing Agent Transform your vehicle's dull, faded plastic parts into vibrant, like-new condition with our 50ML Plastic Refurbishing Agent. This hydrophobic solution not only brightens your matte plastics and accessories but also protects them from UV rays and road dirt to prevent premature wear and discolouration.
Long-lasting Protection for Your Vehicle Unlike other temporary solutions, our plastic refurbishing agent can withstand even the toughest car washing and harsh weather conditions for a lasting, beautiful finish.
Safe for All Surfaces Our special water-based formula is safe for all rubber, decoration, plastic, and paint, making it the perfect choice for all of your automotive plastic parts, including the instrument panel, door frame, door panel, tire, and pedal.
Effortless, Efficient Solution Our nano plastic refresh coating is easy to apply and penetrates deep into the surface, restoring the natural appearance without leaving any signs of chaos or oil. It also provides waterproof and dustproof protection for your interior and exterior.
Results That Last! – Are you tired of wasting time and money on plastic restorers that claim to last long? They always look great in the beginning.. only to fade after a few days, or maybe a month if it's decent! Our product will renew, seal and protect any interior/exterior surface and WILL LAST.. for several MONTHS! Stop purchasing cheap junk with false claims, our product will out last all of them!
Survives Rain! – Does this sound familiar? You spent all that time perfectly applying a new product and it looks great! Wow, you finally found the one! BUT… after the first rain-fall you look in disgust at yet another crappy product that left ugly streaks down the side of your beautiful vehicle… STOP THE MADNESS! Our product repels water and stays looking good for several months! Never again will you feel that disappointment!
No More Oily Mess! – Do you hate all the oily, greasy gel dressing products that stay wet and never fully dry? That describes 90% of the plastic and trim restorers on the market today! Well lucky you! We made a product that will restore and leave a great finish, but more importantly, it will completely dry to the touch! No more ruining your detailing towels and supplies with cheap oil-based products!
Highly formulated with a superior coating that is environmentally safe and unharmful, gets deeply into the plastic surface creating a protective layer to avoid fading and aging due to extreme heat and sunlight.
It's very convenient to use, just wipe it with a sponge on the desired area until you get the effect you want.
Fast and effective penetrate deep into the pores of plastic to remove dirt and dirt that is deeply immersed in plastic.
Spray the solution directly on the plastic surface or your desired area and wipe it evenly with cotton or a towel. See the difference in a snap!
A perfect solution for your exterior and interior car problems, bringing back the glorious shine instantly!
Restore the brilliance of your vehicle with our 50ML Plastic Refurbishing Agent. Order yours today with Car Plastic Revitalizing Restorer Coating Nano Plastic parts Refurbish Agent Recovery Revive Interior Panel 50ml
How to Use:
1.Clean up the sundries and dust around the applicable area.
2.apply the product, using circular motion wipe with sponge or rag.
3. Wait for it to dry and then wipe with a rag.
The kit includes:
1x sponge for cleaning, 1x microfiber cloth, liquid Car Plastic 1x Revitalizing Restorer 50ml
Read more